Head Spa Salon WAYANPURIEnglish
Welcome to WAYANPURI HEAD SPA!
Here you will experience the finest Japan made "head spa".
Our treatment is a mixture of Japanese SHIATSU massage and professional hair/scalp care with OMOTENASHI mind.
You'll feel deep relaxation, facial lift up and more volume and strength to your hair.
Our service is provided for both women and men.
Detox SHIATSU Head and Scalp Massage
90min
¥12,900(Tax incl.)
WAYANPURI offers you scalp, neck and shoulder massage, deep cleansing of scalp, shampoo, restorative hydration hair mask, which will relieve tension and alleviate stress.
Click "LIKE!" on Facebook, and you will get a PLACENTA ESSENCE MASK (1 / \1,200 Tax excl.) for FREE!!
Made in Japan
Online reservation
Click on the salon you would like to go
TOKYO・YOKOHAMA
OSAKA
Detox SHIATSU Head and Scalp Massage
90min
¥12,900(Tax incl.)
We have our original cosmetic products "WAYAN RESORT COSMETICS",
Which includes hair care series as well.
You can only buy our original products at WAYANPURI. Tax-free for over 5001yen purchase.
WAYANPURI HAIR CARE SERIES
Made in Japan
SCALP CARE SHAMPOO ¥2,980(Tax excl.)
Amino acid shampoo made with Botanical essences to cleanse and revitalize the hair and scalp.
HAIR THICKENING TREATMENT ¥3,300(Tax excl.)
Botanical essences restore cuticle damage, improves healthy hair growth.Natural oil aroma will give you the relaxation.
SCALP REVITALIZE ESSENCE ¥4,980(Tax excl.)
Spray directly to your scalp daily, natural essences such as seaweed will revitalize, hydrate your scalp, creates healthy foundation of your hair.
SHINY SMOOTHING OIL ¥2,980(Tax excl.)
Contains pure Argan oil, not greasy, repair the damage and leaves hair soft and full of shine.
Detox SHIATSU Head and Scalp Massage
---
Detox SHIATSU Head and Scalp Massage
90min
¥12,900(Tax incl.)
1
Scalp scope check
We use high-performance microscope.You can see the condition of scalp and pores.
---
2
Scalp deep cleansing
Special cleansing massage eith plant oil.
---
3
Head deep massage
Our custom made Shiatsu massage is the secret of Wayanpuri.
---
4
Shoulder neck, and decollete lymphatic massage
Lymphatic massage of decollete neck and shoulder.Improve lymph circulation.
---
5
Germicidal & deodorant micro steam
Micro-steam promotes discharge of sebum and improves the environment of hair growth.
---
6
Detox massage shampoo
Scalp and pores are washed throughlly with the original amino acid mild shampoo.
---
7
Water Jet scalp wash
30 shots in every seconds,tje water massage your scalp.
---
8
Scalp spa essence
Apply moist lotion to the scalp. the condition of scalp will be Dramatically improved.
---
9
Hair growth massage
Massage scalp using special hair growth lotion with an immediately changes the condition of hair and scalp.
---
10
Hair activation ultra pulse
A electroporation, High functional massager reaches deep tissue ofyour scalp,improve circulation,prevent hair loss.
---
11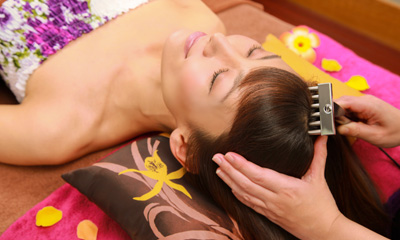 Hair growth ozone machine massage
Using special hair rising machine,the nurition of hair growth lotion is penetrating into scalp and pores. It makes the condition of Scalp and hair very well.
---
12
Finish & Massage
The finishing massage is done through acupoint,very relaxing and smoothes the blood and lymph circulation.
---
関西
大阪梅田店(西梅田徒歩1分)

大阪難波(なんば)店(駅出口直結)
ワヤンプリスペシャル


「デコルテ&首肩オイルスパ」


髪と頭皮の悩みの根本原因を解決します
各メニュー90分コースに含まれる「デコルテ&首肩オイルスパ」は、ワヤンプリが独自に開発したリンパマッサージ。老廃物がたまりやすい、心臓上の左鎖骨のリンパ節と腋下のリンパ節にしっかりアプローチし、頭から腕までしっかりマッサージすることで、血流が促進され、頭痛、肩こり、不眠、眼精疲労と言った体の「深部疲労」か緩和し、体の免疫バランスが調整されます。
これにより、頭皮の環境を改善し、抜け毛、薄毛、細毛の根本原因が解決され、美髪を生み出す究極のトリートメントです。